Do you have a favorite holiday? Why not collect items relating to it, so people can know you as that "creepy christmas lady" or that "creepy st. patrick's day man". bonus points if it is a holiday that no one really celebrates, or if the collection is very specific.
i myself enjoy easter eggs with scenes inside of them -- diorama eggs, like:

handmade ones, like this wedding scene,

or this handmade elephant on a toilet inside a real egg

and this vintage bone china squirrel in an egg:

i also deeply enjoy anything that has a face, such as this vintage celluloid baby rattle:

then there's this antique paper mache easter rabbit pulling a car: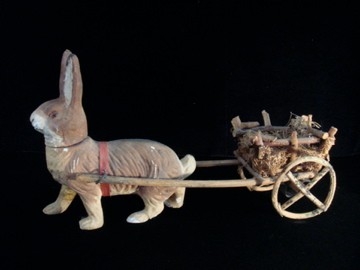 funny vintage knickerbocker plastic easter bunny lady:
dapper celluloid easter chick roly poly toy:

egg hunt!